"Welcome one another, therefore, just as Christ has welcomed you, for the glory of God." - Romans 15:7
Through this web site, we are pleased to be able to introduce you to that same worship and fellowship as it is expressed in the life of our Parish. If you are a new member of our parish, or are considering membership, these web pages will acquaint you with what our parish offers to those who give it support and sustenance; to those who already belong to the church, we hope they will provide you with the assurance that your sacrificial offerings are received with profound respect, and are utilized to maximum effectiveness. They will, in any case, enable you to make the informed decisions that are necessary for a meaningful relationship with your church!
---
Download 2017 "Stewardship Form" Here Please Click Here
---
To view the last Greek Food Festival click on this link, FESTIVAL 2015. Thanks to NGTV for the video.
---
I have been asked by New Greek TV to host a series entitled "Spiritual Enlightenment" It is seen every Sunday after the Divine Liturgy from 12 noon till 12:15 on NGTV. You may also see them on "You Tube" with the Keywords,or click here "Vasilios Spiritual" for link to the shows, Archim. Vasilios.
---
View This Weeks Bulletin Click Here
---
Services Schedule
GREAT & HOLY WEEK SCHEDULE – ΜΕΓΑΛΗ ΕΒΔΟΜΑΣ ΠΑΣΧΑ
Holy Thursday, April 5 – ΜΕΓΑΛΗ ΠΕΜΠΤΗ
9:00 a.m. Vesperial Liturgy of St. Basil the Great – ΕΣΠΕΡΙΝΟΣ ΚΑΙ Θ. ΛΕΙΤΟΥΡΓΙΑ ΜΕΓ. ΒΑΣΙΛΕΙΟΥ
7:00 p.m. Service of the Holy Passion of our Lord (Twelve Gospels) – 12 ΙΕΡΑ ΕΥΑΓΓΕΛΙΑ
Holy and Good Friday, April 6 – ΜΕΓΑΛΗ ΠΑΡΑΣΚΕΥΗ
3:30 p.m. The Royal Hours and Great Vespers (Apokathelosis) ΜΕΓΑΣ ΕΣΠΕΡΙΝΟΣ ΚΙΑ ΑΠΟΚΑΘΝΛΩΣΙΣ
7:00 p.m. Lamentations (Epitaphios) – ΕΠΙΤΑΦΙΟΥ ΘΡΗΝΟΥ
Holy Saturday, April 7 – ΜΕΓΑΛΗ ΣΑΒΒΑΤΟΝ
9:00 a.m. Divine Liturgy of St. Basil the Great – ΜΕΓΑΣ ΕΣΠΕΡΙΝΟΣ ΚΙΑ Θ. ΛΕΙΤΟΥΡΓΙΑ ΜΕΓ. ΒΑΣΙΛΕΙΟΥ
11:00 - 11:50 p.m. Holy Resurrection Matins – ΜΕΣΟΝΥΚΤΙΚΟΝ ΑΝΑΣΤΑΣΩΣ
12:00 - 12:20 a.m. The Triumphant Resurrection – ΙΕΡΑ ΤΕΛΕΤΗ ΑΝΑΣΤΑΣΕΩΣ ΚΑΙ ΟΡΘΡΟΣ ΑΓΙΟΥ ΠΑΣΧΑ
12:20 – 2:00 a.m. Divine Liturgy of the Resurrection – ΘΕΙΑ ΛΕΙΤΟΥΡΓΙΑ ΑΓΙΟΥ ΠΑΣΧΑ
Great and Holy Pascha Sunday, April 8 – ΚΥΡΙΑΚΗ ΑΓΙΟΥ ΠΑΣΧΑ
12 noon - Agape Vesper of Easter – ΜΕΓΑΣ ΕΣΠΕΡΙΝΟΣ ΑΓΙΟΥ ΠΑΣΧΑ (ΑΓΑΠΗ)
If you would like to sponsor a Coffee Hour, please see the Parish Council after Liturgy.
RENEWAL WEEK - NO FASTING ALL WEEK!
Thursday, April 12, 2018
6:30 p.m. Bible Study
Friday, April 13, 2018
Theotokos of the Life-Giving Font
9:00 a.m. Orthros/10:00 a.m. Divine Liturgy
Sunday, April 15, 2018
St. Thomas Sunday
9:15 a.m. Orthros/10:15 a.m. Divine Liturgy



To See Photos From Parade Click About Us.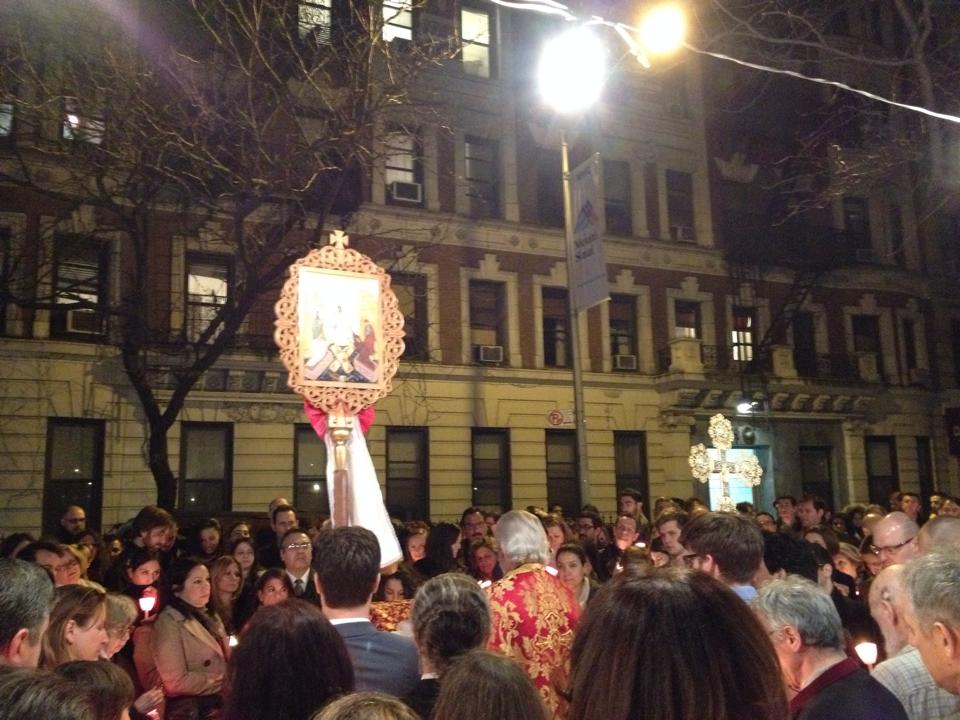 Parish News:
Thanks To All Of You For Making This Year's Festival A Successful One! See All Of You Next Year When We Celebrate Our 75th. Anniversary Dinner.
---
Download 2017 "Stewardship Form" Here Please Click Here
---
Online Chapel